As a young, 14-year-old entrepreneur, Hart Main saw a need for more manly-smelling candles for manly men so he capitalized on it. Instead of the typically fresh laundry, flowery smelling candles, Hart created "ManCans", candles made for men that are "more likely to smell like a fresh new baseball glove".
Hart's idea started as a joke when he was teasing his sisters' "girly scented" candles that she was selling for a school fundraiser. His mom then suggested that he make a more masculine scented candle to solve this problem. With Hart's $100 and his parents $200 investment his business took off from there.
"ManCans offers eight scents so far: New York Style Pizza, Grandpas Pipe, Sawdust, Campfire, New Mitt, Fresh Cut Grass, Coffee and, of course, Bacon."
Not only has Hart's business flourished economically in the for-profit industry, but he has also donated his time and money to various charities. The candles are made of empty soup cans that have been purchased by his family and the soup is donated to a local soup kitchen. Hart's mom makes the candles in their kitchen with supplies from Ohio, but they are looking to rent out a space because their kitchen has become overwhelmed with candle products.
Hart presents himself as a very professional business man for only being 14 years old. He cares about his company and the way things are run. He had a simple idea to a problem that he was passionate about it and he created a very successful business out of it. ManCans are now sold in stores across the country and Hart is gaining a decent profit from it.
Let Hart Main be an example to us all that age is just a number and that you can do or change anything you are passionate about.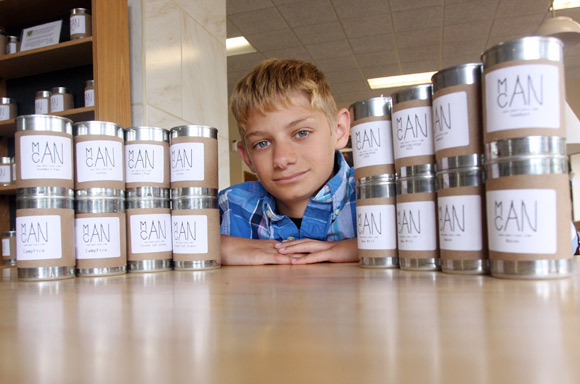 Hart Main and his "ManCans".
https://www.huffingtonpost.com/2011/05/10/hart-main-mancans-13-year-old-entrepreneur_n_909300.html
http://www.investopedia.com/slide-show/young-entrepreneurs/